I was convinced that I could clean with just water alone when I got the Enviro Cloth and Window Cloth (the Basic Package) in my hands. When cleaning surfaces all over my home, I quickly noticed how CLEAN they felt. How the cloths only picked up grime, germs and filth while leaving behind NO residue. I became aware of how my previous cleaners were leaving a film behind…even my green cleaners! and guess what, filth is attracted to film and will come back and stick to your surfaces sooner which means cleaning more often (NO THANKS!).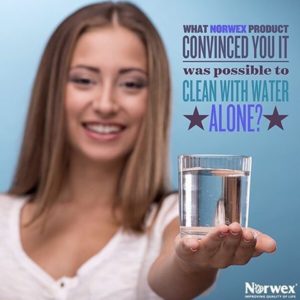 I was convinced that it was possible to clean with just water when I was cleaning in half the time that I was before. Goodness, the Enviro picks up so fast and so much! I'm STILL blown away that I'm only using a cloth and water to clean. Nothing else.
But I wanted to know for sure that these Norwex cloths are picking up germs that my naked eye can't see. I did the chicken juice test over and over and read up on how microfiber works. I blame the science in me.
What Norwex product convinced YOU it was possible to clean with water alone?