I do believe it is my responsibility to teach my kids how to be good stewards of this earth. I cannot help but cringe when I see trash littered all over the place because I am reminded of how some people just don't care about taking care of our planet for future generations to come. Who wouldn't want their kids and grandkids to enjoy clean lakes to swim in, clean hiking paths, clean drinking water, healthy air, and more and more.
I grew up in a state that values taking care of the environment so there were strict penalties for littering and pollution causing which is all fine and dandy BUT I think it is MY job as a parent to instill these values into my children. How?
*Model the behavior you want your kids to have by showing your kids how to reduce, reuse, and recycle. We show them what is important to us with the choices that we make and the priorities that we have (car we purchase, house we buy, being creative with using things over for another purpose, etc.)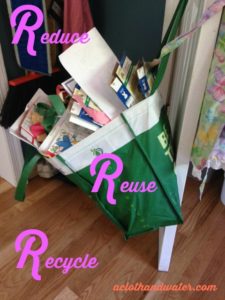 *Talk with them! Talk about why we choose not to put everything in the trash and why we hang a Norwex grocery bag in the kitchen that continually overflows with recyclables. Talk about why we don't take 20 minute showers. Talk about why we don't leave our toys around for the dog to chew up (and possibly choke on). You get the picture.
* Involve your kids as much as possible. Plant a garden with them. Clean up dog poop in the yard with them to show the value of keeping things from getting nasty and how we all need to have some dad gum responsibility.
*Celebrate Earth Day or something like it. My kids LOVE any reason to party 🙂 and they remember all the parties that we have no matter the reason. Many times we think of the nasty things happening on the planet (oil spills, plastic in the ocean, extinction of the whales) which is good to be aware of to learn from. But I want my kids to celebrate the beauty of what God created for us to be stewards of.
* Practice being more sustainable. We recently bought 6 backyard chickens to eat the ticks & other bugs without needing to use a chemical to do so. We will use our chickens for some winter dinners and then buy more chicks in the spring.
Being a good stewart is a big and sometimes hard job but the rewards that we reap from what we sow are more than worth it.