I wanted to test the effectiveness of the Norwex cloth right in my very own kitchen. Norwex claims that their cloths remove all contaminants from a surface with just water but the science in me wanted to conduct my own experiment and compare Norwex with other popular cleaners. First I smeared raw chicken all over the counter and then cleaned the surface with each cleaner. I used a ProClean testing swab (a protein testing strip used by the food industry to test for surface cleanliness)  to see if the surface was truly clean. The color on the swab indicates how contaminated my counter still was after using the specified cleaner (Here is a graph showing how the test swabs indicate whether or not there is protein left on the surface)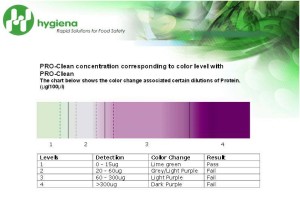 As you can see, GREEN is clean and contaminant free and any shade of grey or purple means there is still protein on the surface. Here are my findings: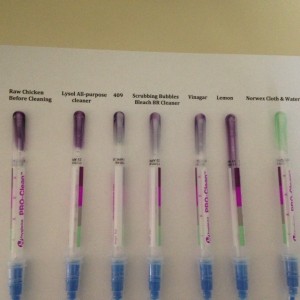 There was only ONE completely green swab…the Norwex cloth and WATER! Norwex truly leaves a clean and residue free surface without the nasty smelly chemicals. Why waste $$ on that other stuff when it doesn't even work effectively??
New to Norwex? These are my favorites for people just getting started and while using them (and eliminating tons of useless cleaners), you can be assured that they are truly cleaning your home effectively!
The Household Pack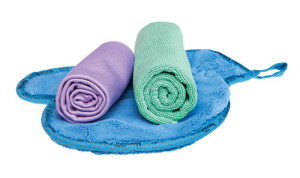 The Bathroom Scrub Mitt