It's official my friends, July is MOP month! I cannot say enough about how insanely generous Norwex is with their hosting program. My hostesses walk away with $200 to $350 in totally free Norwex products to eliminate all the chemicals from their homes. Can you imagine? Only cleaning with water?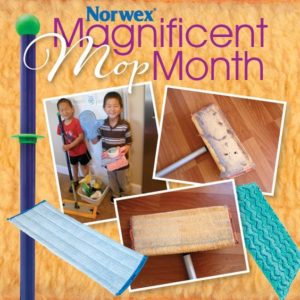 So what's the hype about this mop? It's fast, effective, easy, and you only use water. First, the statically charged dry pad picks up your allergens (that vacuum cleaners fail to pick up), hair (goodness gracious, we have a LARGE Bernese Mountain dog. Need a say more?), crumbs, etc. Simply swivel around your floor picking up anything dry with your dry (yellow) pad.
When you are ready to rid your floor of germs, wet your blue microfiber pad (this guy has the antibacterial silver in it) just so that it's damp. Then go to town cleaning your floor. No mop bucket, no nasty product that leaves streaks. So easy.
I love that there is no product or disposable pad involved. Your mop will last and last without needing to purchase consumables to keep your floors clean.
I have a couple dates left! Contact me to invite your friends to learn more about a better way to clean. Happy cleaning!