I hate to break this to you. This type of thing sometimes is better left unknown while you sleep in peace because knowing what I'm about the tell you will most definitely cause you to loose some shuteye. While you sleep in your cozy beds at night, you very well could be sharing your pillows and mattresses with millions and millions of these guys: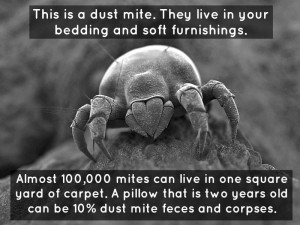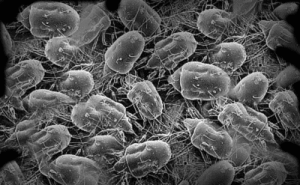 Delightful eh? Dust mites make up 80% of the dust in your home and they live on dead skin cells, fungi & bacteria, and water vapor. We provide these ugly bugs all the nutrition they need to survive and multiply while we sleep. Dust mites also love to live in sofas, dog beds, stuffed animals, etc. but most live in your bedroom!
A single dust mite will produce 20 to 100 fecal pellets per day! Nasty! And this is what people are allergic to. The average person will toss and turn while they sleep 75 times in a single night. When we move in our sleep, dust mite feces expel into the air for us to breath.
I personally sleep a lot better at night when I'm NOT breathing in bug poop (or hearing my husband breath loud from his bug poop allergy). Thank you Norwex Mattress Cleaner!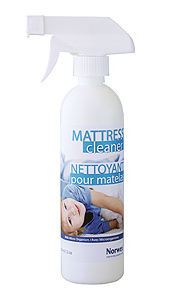 The Norwex Mattress Cleaner is an enzyme designed to remove organic material (dead dust mites, dust mite feces, dead skin cells) from mattress, pillows, bedding, and fabric furniture. It also neutralizes nasty odors in your bed (anyone have urine smells or stains in your bed?).
How to Use:
Use once every three months (I personally use it on the first day of each season so I remember to keep up on them bugs.

Spray directly on mattress, pillow, stuffed toy, etc.

10 sprays for a twin, 15 sprays for a queen, 2 sprays for a pillow.

NO DOT use on non-absorbent crib mattress or covers.
How Does this stuff work? The Mattress Cleaner uses enzymes to feed on the dead dust mites, fecal material, pet dander, dead skin cells, and yeast & fungi. The enzymes feed off of these materials until the end result is carbon dioxide and water. When the enzymes are finished eliminating the organic material, they disintegrate! (NO dust mite bones left behind 😉
Please reach out if you have any questions! I have been amazed at the testimonials that I have heard from using this product. People with asthma especially have benefited from the Mattress Cleaner and I'm so excited that there is a simple solution to their breathing problems.