Oh those never ending dishes! We all need to eat to live which inevitably causes many dirty dishes in the process .  Before Norwex, dealing with our stinky dish sponge (or cloth) wasn't fun. I felt like it always smelled nasty no matter what I did! Bacteria LOVES living in those damp, soapy, covered-in-food-bits sponges/dish rags which causes the odor.

The solution? You have to try the Dish Cloth! The Dish Cloth is a netted nylon cloth used either folded or scrunched up. Simply use wet with your dish liquid. I have had mine for almost three years and it's still going strong (saving me tons of $ on sponges and stink hassle). I try to give one away at my Norwex parties because this cloth is SO used in my home!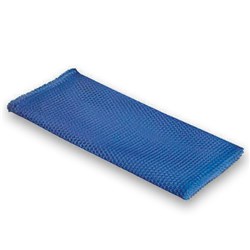 Pros:
*Scrubs dishes really well. Gets dried egg off with ease and does not scratch.
*Does not stink
*Dries quickly
*Durable and inexpensive
*Great for getting dried dough off counter tops
Cons:
*Can be too big for some people (could cut it in half)
*Drippy
*Cannot use to clean counters
What are your thoughts on the netted dish cloth?