I love being fearless with my baking. I tend to try new things when people come over for dinner or when it's someone's birthday. My son's second birthday is today and I thought I would utilize this occasion to make a lovely chocolate beet cake with cream cheese beet frosting. This is in NO way an attempt to get my kids to eat veggies (call me old fashion but I simply make them sit at their seat until their greens are in their tummy) by hiding them in a cake. This is a birthday people and on birthdays you don't focus on healthy cakes. At least I don't anyway. I want something to go in the memory bank and I thought this fun treat would do. The man of the home hasn't been as thrilled as me for this cake (I have to admit, I have been talking about it ever since I saw beets at the farmers market) but I'm excited to surprise his taste buds.
Fun recipes mean fun messes. At least for me they do. Have you ever worked with beets? Or beets with kids?
When my 6-year-old saw this georgeous spill she nonchilantly says "yeah that's fine. We have an Enviro Cloth…". Yep we do. I personally don't mind if my cleaning cloth becomes stained with beet juice.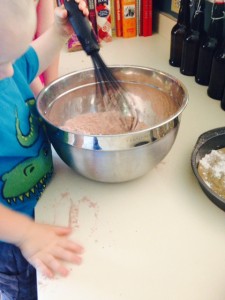 When the birthday kid found us making messes in the kitchen he didn't want to miss out on the fun! I handed him a wisk and the dry ingredients were soon mixed AND spilled all over the floor. Nothing the mop can't handle.
When the cakes were baking in the oven, the helpers dove into the left over batter in bowls and utelzels.
The end result: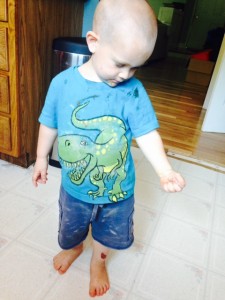 In case you are wondering how my fearless cake turned out, it was a hit. Even my husband loved it and even put a large piece on his nightstand so that he would have it waiting for him in the morning.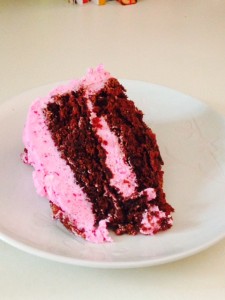 I love that I don't have to completely freak out when mess bombs go off in my home. Norwex really does help ease the mess tension and gives me the green light to hand off cleaning tasks to the little people of the home. No chemicals and a very effective cloth give those little busy hands something to do and a mom that can sit a little longer with coffee in hand.