I would like to show you are easy it is to launder your Norwex microfiber. Yes, you DO wash these cleaning cloths! Thank goodness we don't need to launder them very often thanks to the awesome silver agent in the cloths but when we do, it's super easy.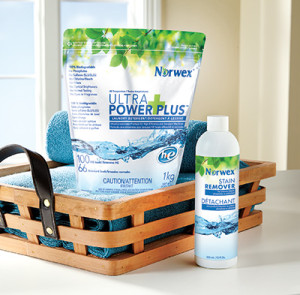 There are three easy rules to follow to optimize the performance of your cloths and increase the lifespan of them:
1. Do not use bleach when washing
2. Do not use fabric softener (liquid OR the sheets)
3. Do not wash them with a load of linty things (like towels or sweaters). The BEST load to wash them with would be a load of cotton bedsheets. This is a very low lint load.
After washing, simply throw them in the dryer (without the dryer sheets!) and dry.
Here are a few other things to consider. Most over-the-counter laundry detergent is packed FULL of fillers (please look up what those fillers are! You will want to throw out all that detergent because the very thought of wearing them on your clothes and next to your skin is unbearable!). Fillers never dissolve and will build up in your cloths and coat the fibers. Here is a good visual of what I mean: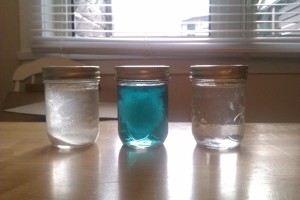 There is one loads worth of detergent in each jar. The two jars on the left are two name brand detergents. See all that junk (filler) in the jars? The jar on the right is Norwex UPP detergent; clear and filler free.
I highly recommend getting a filler free detergent like Norwex Ultra Power Plus because not only does it wash your cloths SUPER well and increase their performance, I also love this detergent because:
*It's highly concentrated. So it lasts until the cows come home. I use 1 tsp in my front loader (crazy eh??) which makes the bag last for over 200 loads!! If you have a top loader, only a Tbs works awesomely.
*The UPP is 100% biodegradable and free of phosphates and fillers
*It's safe for all fabric
Over time you may need to "deep clean" your microfiber, which is also simple. Boil some water, remove from heat and add 1 TBS of the UPP detergent. Soak your cloths all at once overnight and voila, you have successfully removed all the built up junk! You'll be amazed at how dirty your water will be! You can do this trick to deep clean other articles of clothing as well.
Here are some other hints when laundering your cloths:
If your cloths are heavily soiled or filled with grease, you can boil them for 10 min (up to three times a year)
If you have hard water, minerals may build up in your cloth. Simply soak in vinegar and then boil. Or add some vinegar to your rinse cycle
Do not iron, do not microwave
With proper care your cloths will last way past the 2 year warranty and save you tons of money and exposure to toxic chemicals!